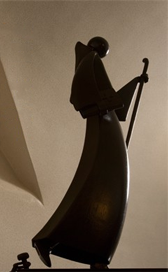 ---

---

Hours of Prayer

---

Monday to Saturday

7:15

Morning Prayer

11:50

Noon Prayer

18:15

Eucharist and Verpers*

21:00

Compline Prayer**

---

Sunday

7:15

Morning Prayer

10:30

Sunday Mass

18:15

Adoration and Vespers*

21:00

Compline Prayer**

* 17:30 in winter Mass + Vespers (including Sunday: Vespers & Adoration)

** 21:00 or 20:00 if supper is at 18:30

---

---

Hours of meals

08:00

Breakfast

12:00

Lunch

19:15

Dinner*

* 19:15 or 18:30 depending on the number of guests present in the house
Booking your stay at the Hospice
When booking your stay on-line with access directly to our reservation system, we ask you to take note of some important information:
The Hospice is a mountain refuge. The accommodation is either in rooms or in dormitories.
In accordance with the regulations in mountain accommodation dormitories, a light-weight silk or cotton sleeping bag is compulsory. It is possible to buy one at the Hospice.
The Hospice manages the reservations and accommodates visitors according to the availabilities in both dormitories and rooms. A booking may be made individually (surname, name) or made for a group (name of the group).
In summer, to be certain to have a private room, you may book directly on the hotel's web page:
www.aubergehospice.ch
The price list is available on our web page:


Children from 0 - 6 years of age: free of charge
Children from 7 - 12 years of age: half-price
Special prices for groups in spiritual retreat.


Possibility of three types of board:


Bed and breakfast
Half board (evening meal, bed and breakfast)
Full board (evening meal, bed and breakfast, midday meal or picnic).

The type of board is identical for the participants of a group.
Special requests must be communicated through the file "Remarks/requests concerning this booking".
The calendar on the right-hand part of the booking form will enable you to choose the dates of your stay.
The days on the calendar are coloured to show the Hospice's occupancy rate on your chosen dates.
When placing the cursor on your chosen dates, you will obtain the number of vacancies in the dormitories and rooms. The Hospice's occupancy rate will also appear.
Your email address is indispensible. Without an email address, booking on-line is simply impossible.
For security reasons, especially during the winter months, those in charge of a group journeying up to the Hospice and during their stay, have the obligation to give their name, mobile telephone number and the intended itinerary too. Thank you for completing this information.
As soon as your booking has been validated, you will immediately receive confirmation by email. If you have entered special requests in the file "Remarks/requests concerning this booking", we will contact you.
All changes concerning your group, such as the number of participants, must without fail, be announced at the Hospice at least 24 hours before your stay. The ideal would be to notify us as soon as changes occur:
By email: hospice@gsbernard.com mentioning your customer number.
By telephone: +41 27 787 12 36.
Cancellations must be communicated at least 24 hours before your stay. Failure to comply with this regulation entails a cancellation fee to be applied.
Cancellations due to extreme weather conditions are cases of force majeure.
The Grand-Saint-Bernard pass is situated on a high mountain itinerary. During the winter months, to ensure security, each participant must be fully equipped, (DVA-ARVA, snow shovel and a snow probe).
The Grand-Saint-Bernard Hospice assures your accommodation. The outward and return journeys plus any other mountain routes are under the entire responsibility of the organisers of the trip.
If you intend arriving at the Hospice late afternoon, please take note that the evening meal is usually served at 7:15 pm and sometimes 6:30 pm. We ask you to organise your arrival in order to respect these set mealtimes.
The total cost of your stay is to be paid at the Hospice. Payment may be made in CHF, Euro or by credit card.
Now, to make your booking, please press upon the "to book" button below. We look forward to welcoming you at the Hospice.
Fields in red are required
---
---
Occupation of the hospice.
0 - 25%
25 - 50%
50 - 75%
75 - 99%